DUCATI Energia owns its fame to the Ducati brothers who established DUCATI company in 1926; 22 years later, DUCATI was split in two other companies, DUCATI Elettrotecnica and DUCATI Meccanica (today DUCATI Motor). DUCATI Energia was founded in 1985 due to the merge of DUCATI Elettrotecnica and Zanussi Elettromeccanica. The main fields of activities are the following: capacitors, power factor correction and power electronics, wind power generators, alternators and ignition systems, electrical vehicles and charging stations, energy analysers, electric network tele-control systems, railway signalling systems, ticket issuing and transport automation systems.
Power factor correction for Medium Voltage and High Voltage
The Capacitor Banks / Filtering Systems Ducati Energia for Medium and High Voltage are built from several units of single-phase Capacitors, suitably mounted on metal frames in galvanized steel connected in series and / or in parallel in order to reach the desired power and voltage , up to 230 kV.
We design and supply PFC Enclosure, insulated in air, for power factor correction and for the filtering of Medium voltage harmonics up to 24 kV and with a degree of protection that can go up to IP54.
Ducati Energia also offers a range of Medium and High voltage Power Capacitors both Single and Three-phase up to 800 kVar with maximum insulation up to 36kV.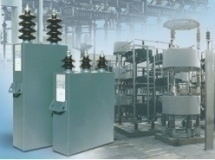 Power Electronics AC & DC Capacitors
AC-Filter & DC-Link capacitors for power electronics applications as power converters, inverters for railways, welding, energy storage, UPS, harmonic filtering, traction, converters with WBS Wide Bandgap Semiconductors (SiC/GaN), induction heating, Power factor correction (PFC) and renewable energy conversion as solar inverters and wind inverters.
Their design combines the long experience which Ducati Energia has developed over the years with the recent innovations in order to offer high performances in terms of current, voltage, frequency and temperature. Ducati Energia also offers the possibility to customize the capacitors with the direct support to the customer.