E. Dold & Söhne KG - German company represent one of the most known European producer for safety devices, monitoring devices, power electronics and control devices with application in different industries (regenerative energies, machine and plant building, automotive industry, medical technology, food and packing, automation, transport & logistic, steel and metal, motor control, building automation).
Solutions for smart drive technology monitoring with softstarters, motorstarters, solid state relays / solid state contactors as well as motor braking devices and reversing contactors.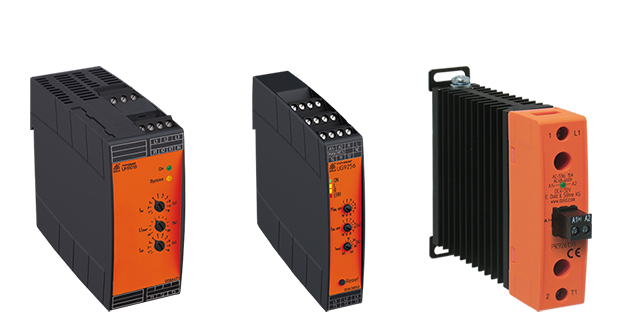 CONTROL DEVICES for various applications
DOLD is a pioneer in the field of control technology and present the first SPS in a standard housing in the automobile and tool machine industry in 1978. Benefit from this experience. DOLD offers you a universal portfolio of safe, efficient solutions for control technology that is tailored to your needs. A comprehensive palette of field bus-capable input and output modules are available for you.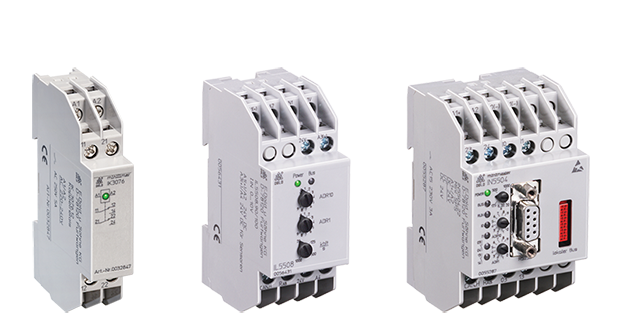 TIME RELAYS for applications with high demands
DOLD has been a renowned, innovative manufacturer in the field of timer technology for decades that has continued to set standards with its developments. Time relays, that is, relays with specific time response, help you to cost-effectively realised start-up and shut-down delays in industry and building technology. The timer technology from DOLD includes both electro-mechanical and electro-pneumatic time relays as well as electronic devices on the basis of modern microprocessor technology.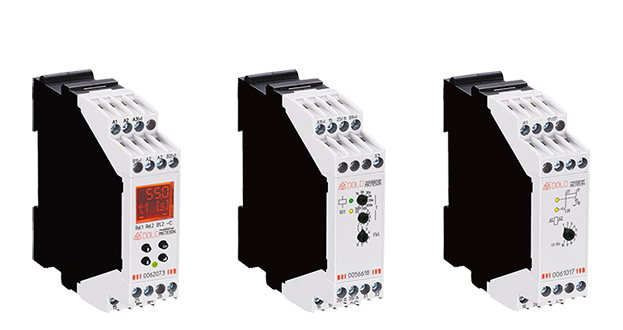 DOLD offers you a wide palette of products for installation technology. These basic devices for modern building automation ensure that you aren't left standing in the dark or ensure that energy is reasonably saved over the scope of the lighting controls.
Alongside timers and remote switches, energy-saving switches and load shedding relays, additional installation devices, such as Venetian blinds switches, network relays or the innovative hybrid switch relays round out the coordinated DOLD programme of installation devices.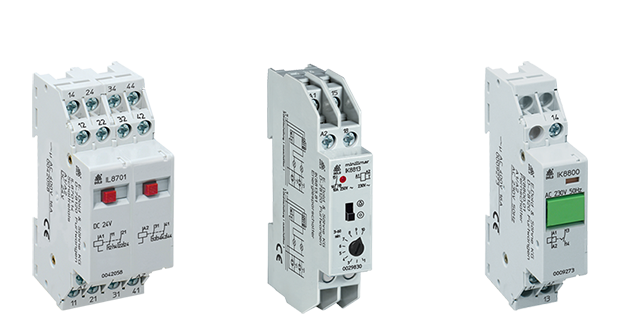 Safety switch, Guard lock, Key transfer
Electromechanical safety switch with and without solenoid interlock, key transfer and safety command device
The SAFEMASTER STS product range includes electromechanical safety switches, solenoid interlocks (safety switches with guard locking), key transfer and safety command devices and is used for reliable safeguarding of movable guards on machines and equipment.
The SAFEMASTER STS modular interlocking system is type-tested in accordance with the legal requirements and is suitable as a stand-alone system for use in safety applications up to Cat. 4 / PL e in accordance with EN ISO 13849-1 without fault exclusion. The safety switch and key transfer system is available as a reliable FRP version or as a highly robust stainless steel version. Find your suitable safety switch with or without solenoid interlock - in combination with safety relays, Dold offers complete solutions from a single source.
The extensive product portfolio includes safety relays with forcibly guided contacts, miniature relays, card relays as well as bistable relays
Dold is one of the leading manufacturers in the field of PCB relays and offers the right electromechanical relay for a wide range of application areas. The wide product range includes miniature relays, card relays, bistable relays and safety relays with forcibly guided contacts. As a specialist in PCB relays, we stand for quality and reliability from a single source. To meet the highest quality requirements, we rely on a high vertical range of manufacture, state-of-the-art production facilities and a combination of experience and know-how. Our PCB relays are available in a wide range of contact variants and designs and guarantee maximum switching reliability with minimum dimensions.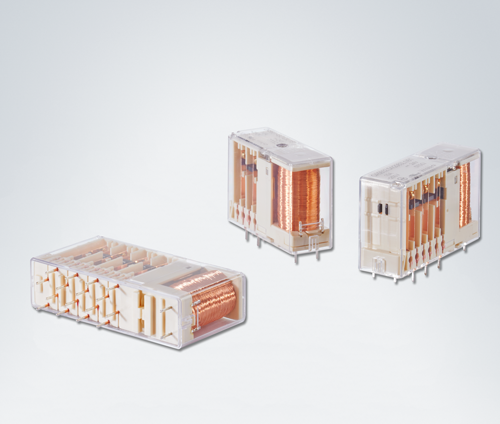 Electronic enclosures for top hat rails
With the wide range of switch cabinet enclosures, distribution enclosures and mounting rail bus system, you will find the right DIN-rail enclosure for every application from a width of 6.2 mm and upwards.
Our enclosure series includes a wide range of different switch cabinet enclosures, distribution enclosures and a mounting rail bus system (in-rail bus). Whether multifunctional, compact, modular or customized enclosure solution, Dold offers you an extensive product portfolio of thermoplastic DIN rail enclosures. The modular enclosure concept allows the use of different connection systems such as plug-in terminal blocks with screw or spring terminals (push in). Flexible construction widths from 6.2 to 200 mm enable a finely graduated size adjustment to any application.
The integrated DIN rail bus (in-rail bus) ensures fast and reliable data and energy transmission. Instead of complex wiring, the module connection is made by simply snapping it onto the top-hat rail.