STEGO Elektrotechnik GmbH
HEATING - semiconductor heaters
When the temperature gets too low inside control cabinets, enclosures and technical installation spaces, this can lead to the formation of harmful condensation. Here's how you can achieve the perfect control cabinet climatisation at subnormal temperatures and critical humidity levels: use our PTC heaters and resistance heaters to heat your control cabinet. Enclosure heaters with a fan also strengthen the convection effect and distribute the warmed interior air more quickly.
Enclosure heating semiconductor for alternating or direct current applications:
with or without ventilation or temperature control;
mounting on the DIN rail or directly on the counter panel;
in the protective case;
with powers between 10W and 1200W.
STEGO Elektrotechnik GmbH
COOLING - fans, filter fans
Optimal control cabinet cooling is an investment in long-term success. Prevent excessive temperatures, which can occur in tightly fitted control cabinets and may lead to malfunctioning of electrical and electronic components. Our filter fans and fans for control cabinets reliably prevent overheating and damage to components.
Fans for alternating or direct current applications:
various sizes;
circulated air volume from 23 mc/h to 1031 mc/h;
mounting on the front of the panel or on top of the ceiling;
with / without flaps;
with degree of protection up to IP56.
STEGO Elektrotechnik GmbH
REGULATING - thermostats, higrostats, thermo-hygrostats
Ensure perfect climatic conditions in control cabinets and enclosures using our temperature and humidity control systems: our temperature controllers and hygrostats control and regulate connected heaters or filter fans with both AC- and DC-powered applications, thereby enabling the perfect feel-good climate for your electronics.
KTO / STO 111 - Thermostat switch NC normally closed;
KTS / STS 111 - Thermostat switch NO normally open;
FTO 011 - Tamper-proof thermostat switch NC normally closed;
FTS 011 - Tamper-proof thermostat switch NO normally open;
ZR 011 - Dual thermostat;
FTD 011 - Tampered-proof dual thermostat;
FZK 011 - Mechanical thermostat;
ETR 011 - Electronic thermostat;
MFR 012 - Mechanical hygrostat;
EFR 012 - Electronic hygrostat;
ETF 012 - Electronic Hygrothermostat;
DCT 010 - DC electronic thermostat;
DCF 010 - DC electronic hygrostat;
DCM 010 - DC switching module;
REX 011 - Explosion-proof thermostat(Ex II 2 GD).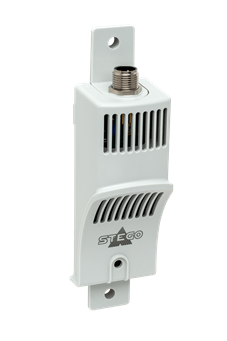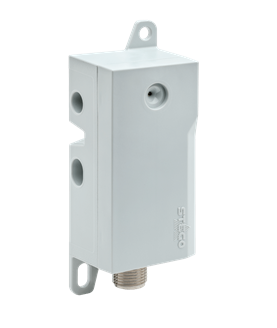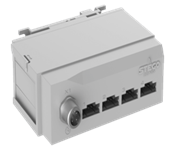 STEGO Elektrotechnik GmbH
MEASURING - sensors for condition monitoring
Condition monitoring is an essential part of planning the maintenance of plants and machinery. This does not only apply to control cabinets and enclosures in industrial systems, but also to a wide variety of applications in which controlled processes take place.
Condition monitoring is a method of mitigating an emerging problem as early as possible, before it actually turns into a serious fault or even an outage. It is based on constant or regular recording of physical data. Devices such as smart sensors record parameters such as temperature and humidity and convert this data into analogue or digital signals. Our range does, of course, also include solutions for IO-Link systems.
STEGO Elektrotechnik GmbH
LIGHTING FOR ELECTRICAL PANELS - LED magnetic lamps
Achieve perfect lighting conditions around the clock inside enclosures and control cabinets. Compact, zero-maintenance and energy-efficient enclosure lamps with LEDs provide the best visibility and workplace safety with minimum installation effort.
LED 025, LED 025 Ecoline - LED enclosure lamp.
LED 021, LED 022 - LED enclosure lamp.
LED 121, LED 122 - LED enclosure lamp with socket.
SL 025 - enclosure lamp with energy-saving bulb.
STEGO Elektrotechnik GmbH
ACCESSORIES - electrical sockets, ventilation devices
Our accessories complete the STEGO range for control cabinets and enclosures. It couldn't be easier – you get everything you need from a single provider. With sockets, pressure equalisation fittings and other supplementary products, you can configure the perfectly protected control cabinet.
SD 035 - control cabinet socket.
DA 084, DA 284 - pressure compensation device.
DD 084 - drainage device.